From
To
This car was literally saved from being cut up and parted out. I bought it from a salvage yard in St. Louis, MO knowing that it would need literally everything replaced. The interior was torn down to bare metal, then sandblasted,
undercoated, all new soundproofing, ect. before the new seats, door panels, carpet, ect. were installed. Then the engine, transmission, and drivetrain, including rear end, were pulled. The engine was rebuilt using a custom ground
cam from Crane Cams. It was ground just for the Crossfire engine and it is the biggest cam they would grind for me and still use the automatic transmission (due to the heavy lope). I love it! With the pollution control removed, the heads ported and polished, roller rockers, chrome everything, and 2" Flowmaster mufflers, this CE sounds as good as it looks. If the heads aren't turned from its looks, they will be from the sound!

This car has been my dream car since I was in high school, but I found out later in life that it was all looks and not very impressive in the "guts" department. My 11yr old son and I set out to change that and change it we did. The 4.11 posi rear end made the biggest difference of all. The tires can be lit up anytime with little or no effort and this car hooks up well enough to have minimal tire spin if you don't want it. It will not have you embarrassed at a stoplight.

Noel Carboni in Florida was my mentor and helped me tremendously in calculating the rear end ratio vs. RPMs at highway speeds. I found that with the 700 R4 Tranny, the overdrive makes for a 2200 RPM highway cruising speed that I can live with since I do most of my driving in hills, curves, and stoplight action.

I have built a custom car dolly that only lifts the back tires 2" off the ground. I can now pull it to shows that are a long distance away.

My son and I painted the car ourselves (basecoat/clearcoat) and painted on all the decals. We put the pinstripes under the clearcoat so that the CE is effortless to wax and clean. I had the paint job bid at $8,500.00. Doing it ourselves, we spent just over $1,500 on the paint and supplies to do it ourselves. We definitely got a much better and much more detailed job (it took 4 months) doing it ourselves. With basecoat/clearcoat, you can hand sand out all the runs or orange peel and then buff to a shiny perfection.

If I can help any of you in technical questions, please let me know. I have had lots of help from others and now consider myself to be a wealth of information on where to buy the best parts for the best price. I am more than willing to pass on this information.

Steve Burges
Here are a few photos from along the way...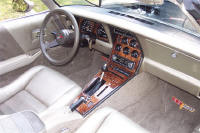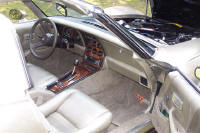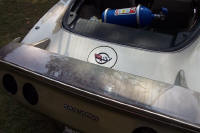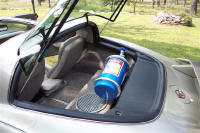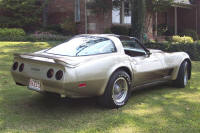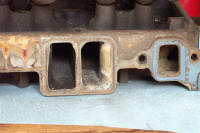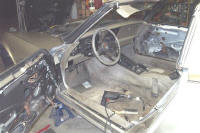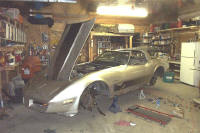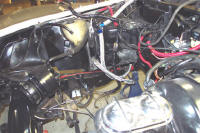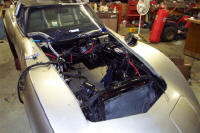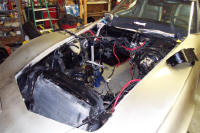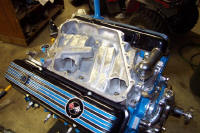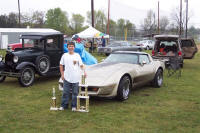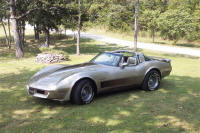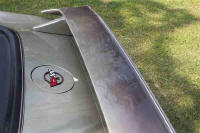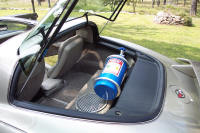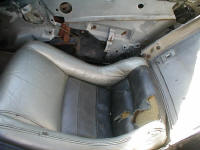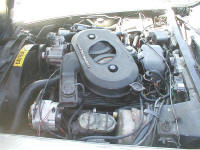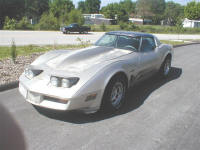 The Beginning
This Collector Edition was saved from being parted out and sold from a St. Louis salvage yard. Note the blue fiberglass t tops. I found new ones from LOF original manufacturer.
Well, Here's how I spent my January Weekends. Everything you see is new or powdercoated. New Ball Joints, Tie Rods, Bushings, 550lb springs, shocks, power steering pump, ps hoses, slave cylinder, rotors, brakes, calipers, even new stainless brake lines and chromed master cylinder.
If this don't make it drive nice and tight, I give up!
You can't put new shiny chrome wheels on without being able to take them off!
I think I'll have a wheel pulled off at the next show. I've never seen a car shown that way, but I have a problem with judges not wanting to look underneath.
And for my next project......
If you want to find out more about this labor intensive project, read my posts on the 82 CE Registry Forum!
---------------------------------------------------------------------------------------------------------------------------------


webcounter
Last updated Monday, January 31, 2005
No affiliation exists between Corvette Addiction TM, the 82 Collector Edition Registry TM or the Collector Edition Registry TM and the General Motors Corporation. The name "Corvette" is a trademark of the General Motors Corporation. Information contained on this site, including the 82 Collector Edition Registry TM and the Corvette Collector Edition Registry TM is Copyrighted by Corvette Addiction TM and May Not Be Reproduced Without Written Permission.
Copyright © 2001 - 2008 Corvette Addiction TM